Special Event Schedule
We'll Let You Know
League News
New Toss Line Added
We have noticed that some players have been struggling with throwing the Bocce balls behind the white line. If you are one who has been challenged with this, please feel free to use the black line when it's your turn to throw. The new lines were painted recently and should be ready for future matches.
Ready to Play
Bill Vitale shows up at Wednesday night's game ready to play no matter what the conditions were. Later he shed the hazmat suit for the de rigueur of shorts, shirt, mask and gloves like the rest of his team, but his entrance was appreciated.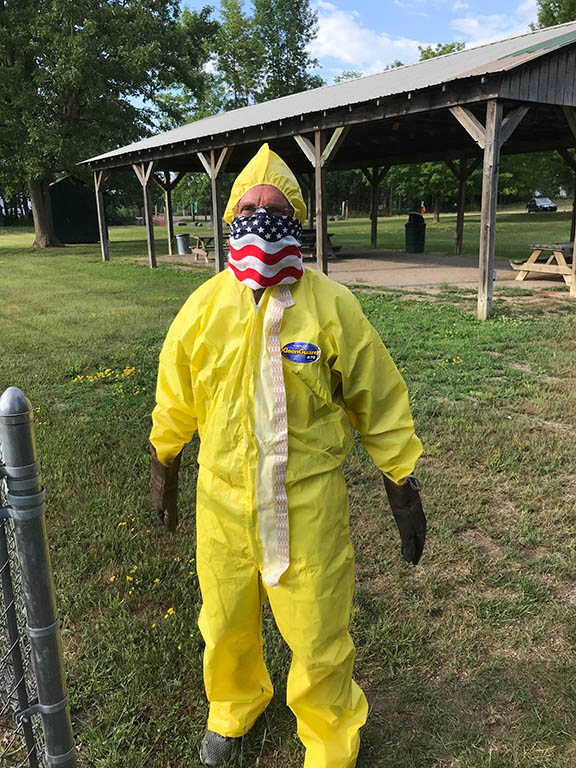 Photo courtesy of Bill Ryan
A Respectful Start To Our New Season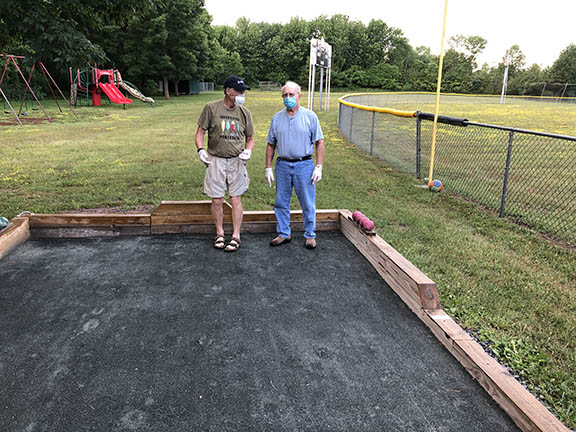 Photo courtesy of Lou Danielczyk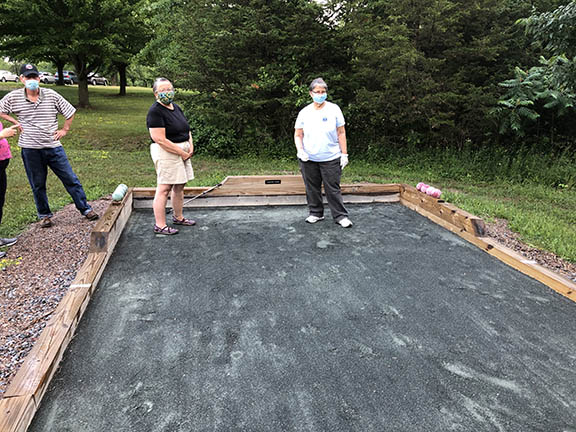 Photo courtesy of Lou Danielczyk
Update for the Start of Bocce Season
Even though Vermont has one of the lowest infection rate of Corvid 19 virus in the country. We want to make every effort in keeping everyone safe. It is recommended that everyone should bring and wear a face mask, latex gloves, personal hand santizer and of course making an effort in practicing safe distancing. Some of these things will be on hand and stored in the shed
After the end of the season if there is enough interest in forming a Fall League, that can be discussed and organized. We are always open to suggestions and ideas to make play more fun and safe for all of us. Don't hesitate to contact us at islandbocceclub@gmail.com.
Islander Photos
Last Year we were visited by Rob Swanson of the Islander during the first game of that evening between the Buckshots and the O's. Rob took some great photos that should be in the Islander on 6/25. We thought we'd share them with you and keep them around for awhile longer. So formally, all the photos below are by Rob Swanson of the Islander and we thank them for their use.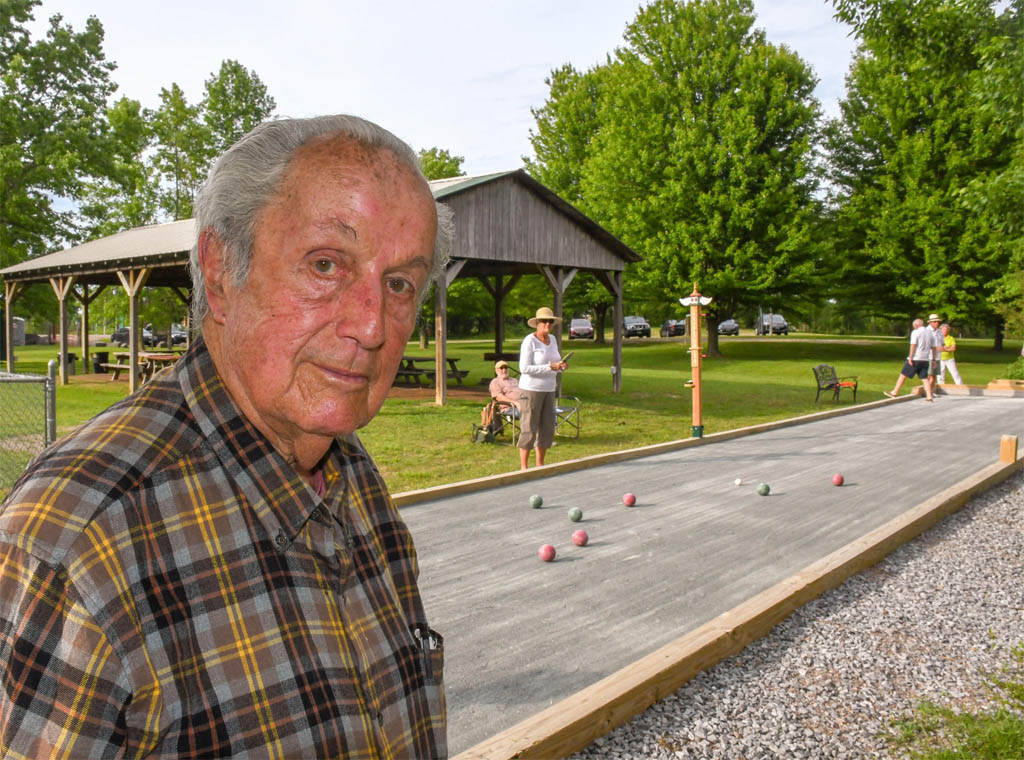 Photo courtesy of Rob Swanson, The Islander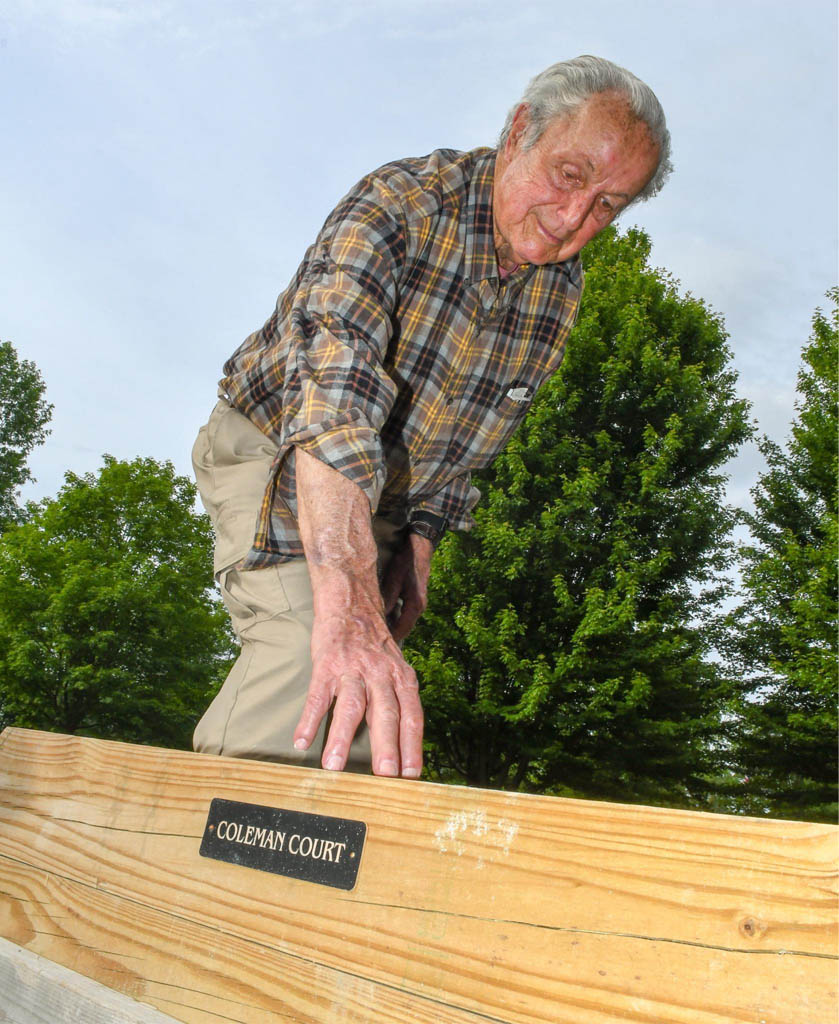 Photo courtesy of Rob Swanson, The Islander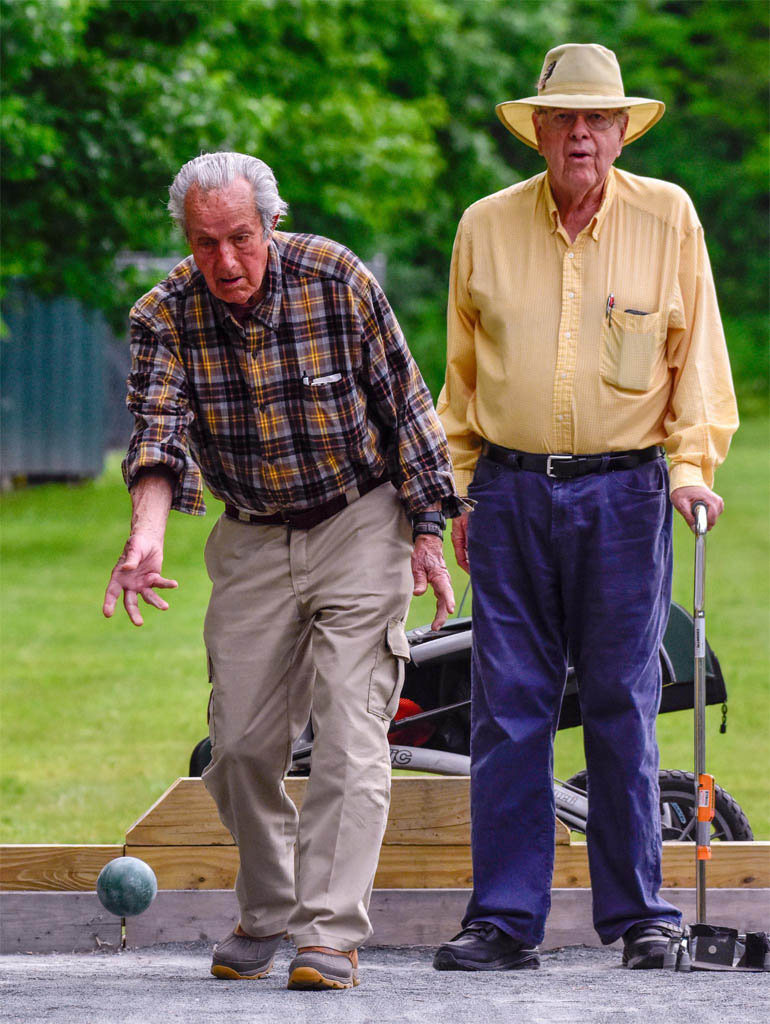 Photo courtesy of Rob Swanson, The Islander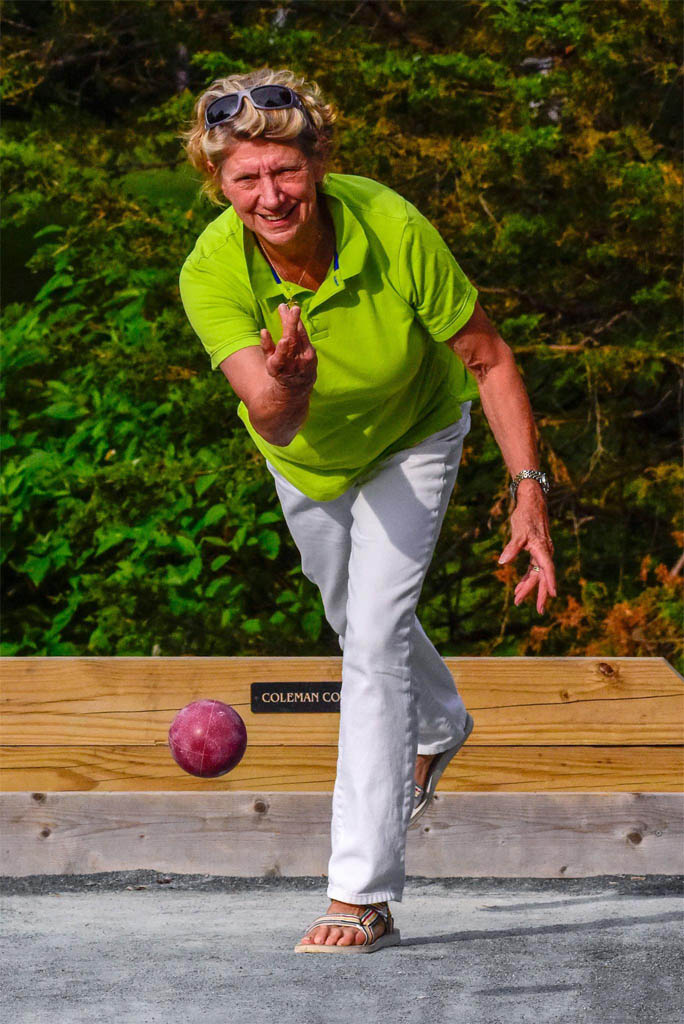 Photo courtesy of Rob Swanson, The Islander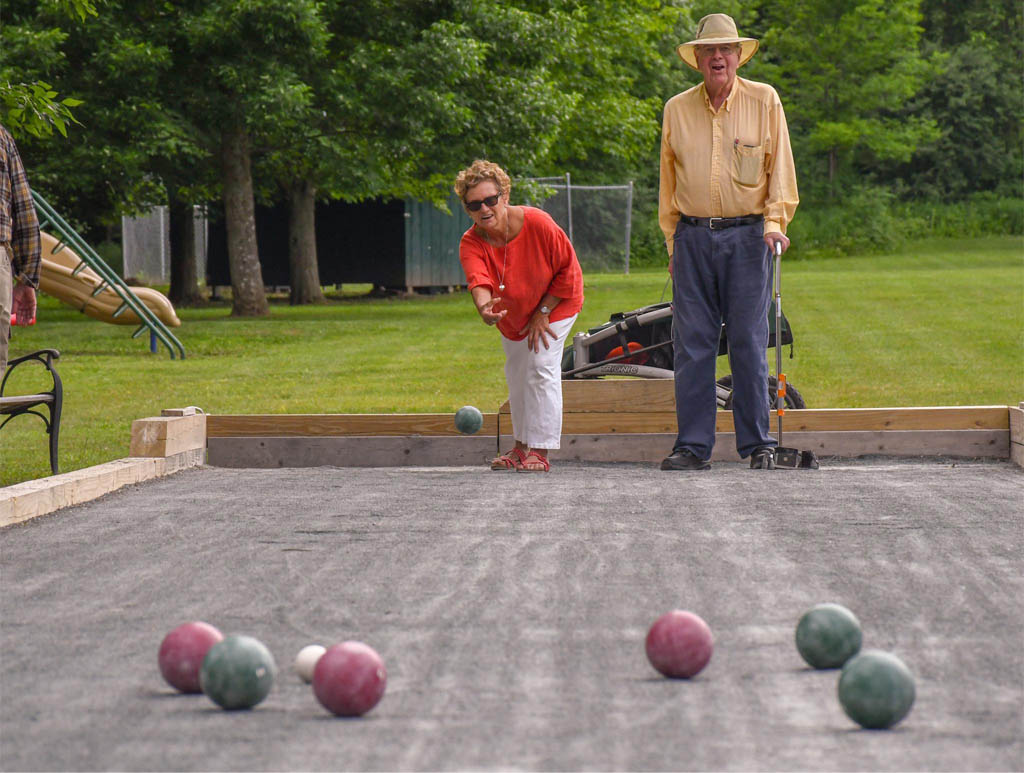 Photo courtesy of Rob Swanson, The Islander
Photo courtesy of Rob Swanson, The Islander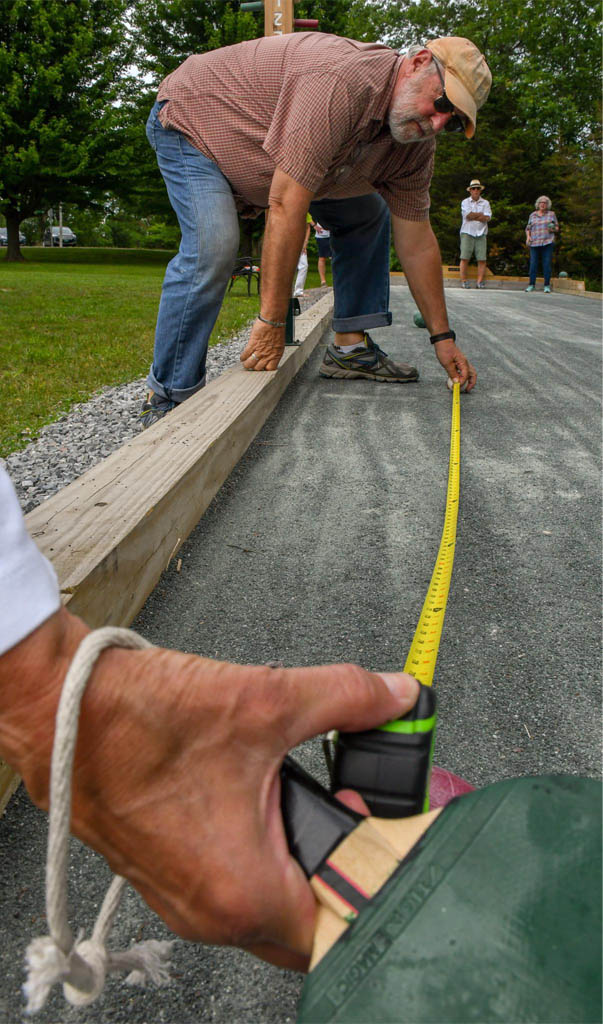 Photo courtesy of Rob Swanson, The Islander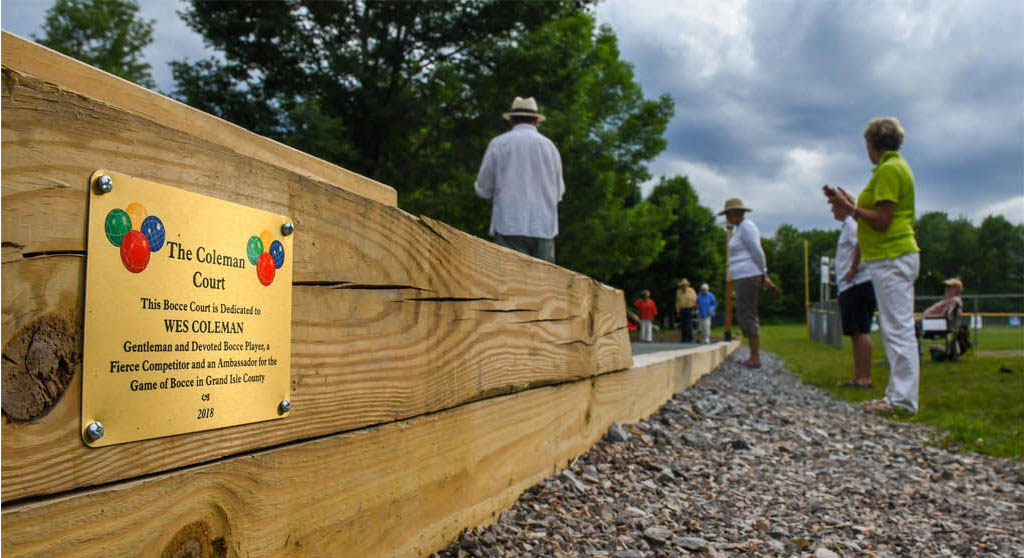 Photo courtesy of Rob Swanson, The Islander